"I wish I'd had Guitar Made Simple when I was learning how to play guitar. Chris Standring shows all you need to know about how to play great guitar in this package and he makes it fun and easy to do. There's much to learn from the program and it's a terrific journey into guitar playing from a pro!" - Stephen Bishop singer/songwriter www.StephenBishop.com
"Without a doubt this unique and brilliant method for beginners and intermediates is the future of guitar instruction!"
Your browser does not support the audio element.

Listen to a brief introduction
From Chris Standring



Dear fellow guitar enthusiast,

My name is Chris Standring. I am a recording artist and music educator and I can't tell you how excited I am about a brand new guitar program I have developed. I am excited because this is something that I have been thinking about for many years and finally after burning the midnight oil for what seemed like forever, has now come to fruition, and surpassed my own high expectations I might add....

In my 20 something years as a professional musician I have come across many guitar methods, most of them relating good information that is relevant to the student. However, most of the books and DVDs I have seen seem to pander to the reader or viewer and dwell on subjects that are just not thorough enough. What is more, there are a million web sites offering free lessons.

So why on earth have I spent over a year of my precious time developing another? I hear you ask...

I'll tell you why. First of all free lessons are all well and good. But I see way too many websites, courses, methods and DVDs discussing particular aspects of the guitar that the student cannot fully absorb because in order to play this, one has to know that, and all too often that important knowledge is not discussed at all. In short, music instruction is just way too scattered. It's just not thorough enough.

Second, technology is at an all time high! The courses presently existing right now in book form are almost redundant. Sure it's nice to read music from a book on a music stand and pop a CD in your stereo to hear an audio example, but wait 'till you see what I've got for you, you simply won't believe it!



"Move over Mel Bay! 'Guitar Made Simple' is an extremely well thought out beginners program, with a very thorough and personal approach to help you easily learn how to play the guitar... correctly! So much more than trying to learn alone with just a book, this brilliant system connects with you as if an instructor is right with you in your own home. Well done Chris!" - Corky James LA studio guitarist with Avril Lavigne, Hilary Duff, Kelly Clarkson, Leann Rimes, Backstreet Boys, Liz Phair, Nick Lachey and Mandy Moore www.CorkyJames.net


I have the most forward thinking, practical, useful, thorough and talked about method existing ANYWHERE in today's market!





If you want to seriously learn guitar the right way, the correct way, the thorough way, and learn from a real professional who knows what it takes to play at a super high standard, then I urge you to read on because I have some life altering lessons to give you.......

The Guitar was made to be simple!
So why on earth does it always seem like rocket science when learning to play it?

There are a number of reasons. First, Many teachers take pride in their achievements, and after all why wouldn't they? But for some bizarre reason they relish in presenting straight forward stuff, as if it were a dissertation in physics?

Others clearly like to concentrate on one particular aspect of guitar playing. All very well, but it assumes previous knowledge which is immediately overwhelming, especially for the beginner.

Other times, and most commonly, the material is not logically presented. This is not to say it is wrong, but presenting such a wealth of information simply MUST be organized, logical and clearly thought out. One subject must follow the next and convey the right amount of information so the next subject can be tackled and studied effectively.

Not only that, the guitar should be fun and musically exhilarating! Why? Because in the early stages, many folks begin to play guitar but soon get overwhelmed and give up.

My personal philosophy....

If the guitar program is done right, it should provide enough inspiration to motivate you the student, so giving up is never an option! Period.

But why should you listen to me?

Well you don't have to actually. In fact I would prefer it if you listened to everyone else recommending my program. You can read a few reports here.



"This online program is a must for those who want a direct approach to the guitar. It has given me the confidence to tackle any type of guitar music. Simplicity, that's the key. I ask myself what I want to know, and it's there in the program. And it's easy to find too. Thanks Chris!" - Dino Soldo recording artist and Lionel Ritchie sax/keyboard player www.dinosoldo.com


But just to assure you, I have spent the last 20 something years in many many different musical situations, be it following a conductor in a Broadway style musical, to reading the heaviest chart on a Hollywood recording session, to performing in front of thousands of people with my own group. What is more I already have a hugely successful jazz guitar course (for intermediate and advanced players) called Play What You Hear, that students have raved about for years. Since the success of that course I wanted to present a similar cutting edge method for those who are not up to the level required for this program.

Enter "Guitar Made Simple"....


| | |
| --- | --- |
| | Guitar Made Simple is the most logically presented program for beginners and intermediates available today. |





"Chris Standring has assembled a beautiful and comprehensive method for the beginning guitarist. This 'how to' program includes audio and video examples that guide the student through a logical path to fretboard understanding. This is a one-of-a-kind tutorial that has no peers. It's truly an excellent way to start guitar studies. Highly recommended!" Michael Clinco - Film & TV composer


This course is designed for two different types of students.

1) Beginner guitarists
2) Players who have been playing for some time who feel they need to go back and understand the guitar more thoroughly. In other words, those players with 'gaps' in their playing.

In this jam packed guitar course you will:
Have 65 in depth interactive lessons!
Have enough information to last you between 5 to 10 years! (depending on your level)
Be playing guitar within days from absolute beginner and continue at an accelerated pace!
Learn rhythm 'strumming' patterns!
Learn to play melodies and chords to over 25 well known songs!
Practice over 300 exercises with highest possible quality audio examples for each!
Learn by example and then practice those examples to 'play along' tracks!
"Chris - First of all let me congratulate you on this fine product you have produced. I feel that if you're an aspiring student that wants to learn guitar at any level from beginner to intermediate, even a semi-professional can pickup a few tricks of the trade from this masterpiece. Anyone interested in learning to play the guitar or reviewing what he or she knows would definitely benefit from this product." - Eddie Rivera GMS student
But what is so impressive about this course?





The Guitar Made Simple online program is completely cutting edge because:

The course literally 'talks' you through step-by-step from beginner to intermediate!
Chris' personal touch makes use of streaming audio and video so lessons are like one-on-one private instruction!
For every image, diagram, example and exercise, you can click on a file and hear how it sounds on the guitar!
For every chord diagram, there is a photo (with 'click to hear' audio) from the student's perspective, showing that shape!
TAB is included for every example song and exercise!
Traditional music notation is included for every example song and exercise!
Super high quality video throughout for the real nitty gritty stuff!
You can click on any chord symbol anywhere in the course and see 3 versions of that chord!
You can print out the entire course to study away from the computer! (315 pages)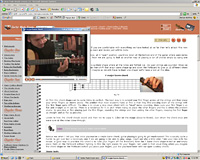 What I do want to impress upon you is that this is a pretty serious course and it assumes you want to know how to learn guitar the right way. I have been playing for over thirty years now (20 as a professional) and I put some real hard work into it I can tell you. Now in my professional performing career I get to play with the greatest players in the world both live and in the studio.

But I'll be honest....

I'm not going to sell you a cheap guitar or a 10 watt disposable amplifier. I wouldn't recommend anything I personally wouldn't use!

And I'm not going to tell you not to learn theory, I'm not going to tell you to avoid all those 'pointless' exercises. On the contrary, I am going to show them to you in their most simplest form and explain exactly why they are necessary to make you a great musician.

If you are serious about the guitar you must understand that there is no substitute for practice and commitment no matter who tells you otherwise. But there are ways to present the material so learning guitar can be fun and fascinating. And I promise my course will do that for you.

In short this program is the real deal because I would expect nothing less for myself if I were to start all over again.

"Great course! Your laid back style makes learning fun, not just a study course. Your technique of teaching presents a relaxed atmosphere which makes learning easy. I have gone through the entire course just to see what is offered and I see nothing left out!" - Robert Nordan, GMS student
Why not take a look at what's in this course?
Take a look and see how deep this program gets...





In this super-extensive course you will get to study:

All the really important stuff including:
Tuning
Holding the instrument
Notes on the fretboard
Basic rudiments and theory



Open Chords and how to
Strum simple rhythm patterns and well known songs
Effectively switch from chord to chord



Major & Minor Barre chords and
How to use them everywhere on the fretboard



Learn to read music and
Translate those notes to the guitar in all the familiar guitar keys
Practice tons of single string exercises and get to know individual strings and fret locations



How to choose the appropriate chord shape

Learn using my 'selective' interactive audio.
Click on an audio example performed by me, then
Click "L" (Lead) to hear the example with the melody omitted so you can play along and try the melody yourself.
Then click on "R" (Rhythm) with the rhythm guitar omitted so you can play along and try the rhythm part yourself.

Here are some play along audio examples so you can hear the super high quality.



Learn all about chords and their applications by example
Major, minor, 7th, major 7th, minor 7th, sus 4, 7th sus4, diminished, half diminished, augmented, major 6th, minor 6th, 9th
Learn how songs are structured
What chords make up certain keys



Palm muting and electric guitar "controlling" techniques


Left hand technique studies (to avoid bad habits!)


Funk rhythm studies


Major and minor blues, shuffles boogies and chugs


Rock 'n Roll stuff including
Power chords and studies



Fingerstyle playing
Classical and simple fingerpicking
How to incorporate fingerstyle playing into songs with tons of examples and exercises



Introduction to Jazz and Bossa Nova


Single string improvisation
The pentatonic scale in all positions
Phrases and licks with tons of examples and play along tracks
Different chord progressions and grooves to solo over
The Blues scale in all positions
Rock 'n roll tricks including bends, hammer ons, pull offs,
Seeing the whole fretboard to improvise with



Article supplement - inspiring words of wisdom and encouragement




Presented in an easy-to-navigate browser.
Find anything in the course using the Guitar Made Simple "search facility"
Glossary of terms
Go straight to page you were working on
Get Guitar Made Simple diploma upon course completion


...And ladies and gentlemen
Introducing the Guitar Made Simple Chord Finder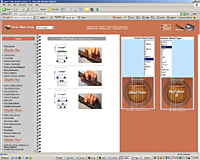 I have included a Chord Finder, something that I personally developed and put together. If you need to look up a chord, simply go to the chord finder and click on any key, then the type of chord you need to find, and a menu of 3 different chord shapes comes up, each with a photo (from student perspective), and chord diagram. Click on any image and hear that chord. These chords are not synthesized, they have been recorded by me personally so you can hear the characteristics of the guitar.

Guitar Made Simple is a wealth of knowledge!

Everyone has their favorite songs. My course will enable you to play all your favorite songs in no time at all! Furthermore, you will have at your fingertips, a complete method that will inspire and motivate you to learn at new accelerated levels!

Guitar Made Simple is a wealth of musical inspiration!
A step by step program that takes you through every necessary aspect of guitar in order to play at super high levels.
Super fast streaming audio enables you to practice endless musical ideas.
Clear and professionally presented notation, charts, audio and video - explained in an easy to understand way.
And the best part of it is that you can learn at your own pace!
Hear it from the experts...


"Chris - You've really done a superb job with this course, especially the way you guide a newcomer with absolutely no experience or knowledge regarding the parts of the instrument, the way it's held, the basics of reading music, essential first position chords, playing songs, and so on. Congratulations!" - Mark Stefani, guitarist and educator

Now picture this: You have been playing for a couple of years since you started this course, your playing has taken on a whole new level. You are jamming along with friends, performing live with a band, maybe writing your own songs....
Now stop and look back on today. What price tag might you have put on the information I have given you? Think about how much money you could have spent on a private instructor. I would hazard a guess at thousands of dollars....
Well I thought about this long and hard and arrived at the price tag of $
299
However, I have decided to reduce the price to make it affordable to serious students!
For a limited time, I want you to have the complete "Guitar Made Simple" home study course for just
$69.95
Imagine having one private guitar lesson every week for five years. One half an hour private lesson with a private instructor averages at around $30.00. That's $1,800, and money well spent I would say. But what if I offered you the same amount of information for just a fraction of the price? ...and the ability to take it all in at your own pace. What would you think about that?
Your "Nothing to Lose And Everything To Gain" Guarantee!
| | |
| --- | --- |
| | When you buy "Guitar Made Simple", I personally guarantee that your guitar playing will take on a whole new level. Otherwise you can return the course and I will refund you 100% (including your shipping!) I make this guarantee for the 99% who are honest, (but naturally skeptical) -- not the 1% who'll take advantage of me. |

If you've read the testimonials from my customers and peers, you've already seen what my product can do for you. I teach the simplest, most easy-to-understand techniques, secrets, and principles to learning guitar, available anywhere today.

Don't forget - order the complete course now for just $69.95 and save!! This offer won't be here for ever!

Take care,


PS: Don't forget, order today and get the Guitar Made Simple course along with my personal Chord Finder as a bonus gift!